2 x Solar Centaur SoLoNOx Combined Cycle Power Plant, incl. CHP 9,8 MW electr.
2 x Solar Centaur H (26,000 and only 2,500 running hours), each 3,8 MW electric
Exhaust gas with 510°C is cooled down to 130°C runs in
2 x waste heat recovery boiler (each 8t/h, 27 bar) which at the cold end produce
2 x 1.2 MW hot water, 2/1 line(s) /switchable to one line only feeds with 1.5 bar a
1 x KKK Kühnle, Kopp & Kausch steam turbine (1,9 MW),
also working with one Centaur at 800 kW !
Hot water tank 2 x 7.5 MW
Peak load boiler 13.7 MW
Elctr. power: 9,5 MW electr. in sum
Therm. power. 24 MW
Voltage: 6,3 KV
Year of manufacturing: 1995
Fuel: diesel and gas, both engines start on diesel
Power efficiency 33.4% electr. net total 82.1% efficiency 4.000 Vh/a = (very) GOOD
Available: immediately including piping and 2 x switch panels and all other equipment.
<![if !vml]>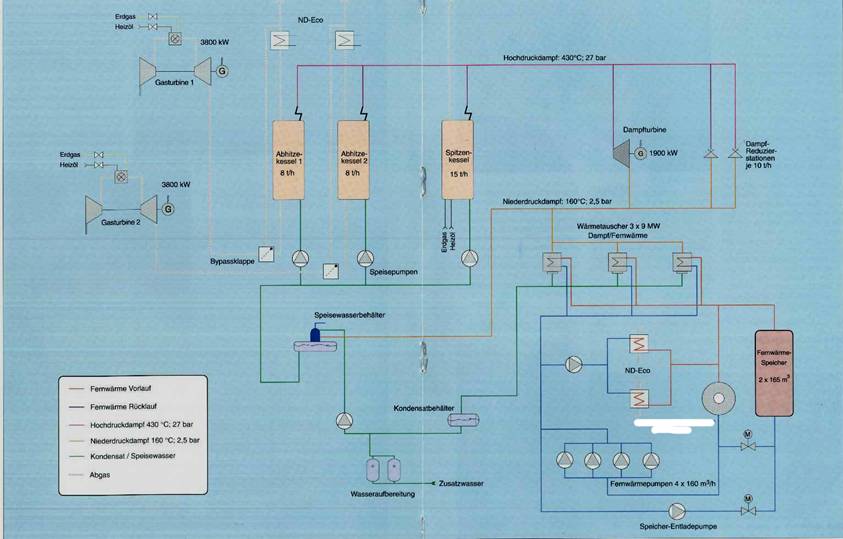 <![endif]>