---
---
Pictures are giving only example of completion after commissioning
Complete functional CHP power plant 16.000 KWe, 50/60Hz, 400/480 10/11.000 volt, natural gas, consisting of 8 unused Jenbacher generator sets type JMS 616 GS-NL , year 2001, unused -0 hours - complete with 3 buildings.
Generator set JMS616 GS-NL
Engine and generator housing are bolted together by a special mounting flange and placed with vibration absorbers on a common base frame.
The rotating shafts are coupled by means of a flexible coupling.
The rest vibrations are so limited that the common base frame can be placed directly on the
concrete foundation. No special foundation constructions are necessary.
Heat recovery built in !
<![if !vml]>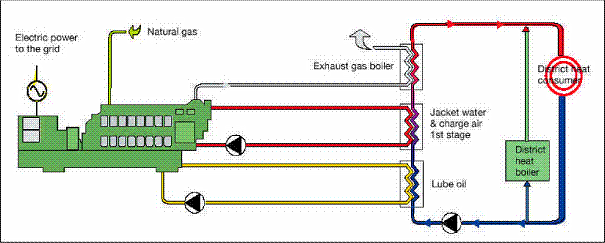 <![endif]>
Each engine has its own heat recovery system.
Heat is recovered from lube oil, jacket water, charged air-gas mixture and exhaust gases.
The lube oil cooler, jacket water cooler and charge air cooler are direct mounted on the base frame.
The exhaust cooler is executed as a separate freestanding unit.
All coolers are made of stainless steel and executed as compact plate heat exchanger, except for exhaust cooler which is executed as stainless steel shell and tube boiler.
If steam is required the exhaust gas cooler must be replaced by an exhaust gas steam boiler,
jacket water and lube oil can be used for heating the condensate and feed water.
In case heat recovery is not required, exhaust gases shall flow directly to the stack and lube oil, jacket water etc. must be cooled by an air fin bank.
Lube oil system
Each engine has a mechanical driven lube oil pump and an electrical driven pre lubrication pump.
The oil level in the crankcase will be automatically controlled by a level switch and electric valve. The oil will flow to the crankcase by gravity. For quick oil exchange two separate electric driven lube oil pumps are installed, one for fresh oil and one for used oil.
Two storage tanks will be supplied, one for fresh oil and one for used oil, tanks are equipped with level indicators and level switches.
Natural gas manifold
Each engine has its own gas manifold, equipped with one manual shutoff valve, two electric
shutoff valves, gas filters, pressure controllers, pressure switches (min./ max. protection) and
pressure indicators (manometers)
A flexible stainless steel hose will connect engine with the gas manifold.
Starting system
Engine is started with an electric start motor. Each unit has its own starting batteries and
automatic battery charger 220/24Volt.
Control panel
Each unit has its own control panel with all controls and protection devices.
A major part of the control is the Jenbacher motor management system called DIA.NE. This system comprises powerful central industrial controls that handle master control and feedback control for the engine-plant, as well as visualization. A link with central process control is provided to meet the specific requirements of customers, via standardized industry busses or using direct signal lines.
The particular focus of the DIA.NE design lies in combining powerful and flexible open- and
closed-loop control electronics with a user-friendly operating concept.
The visual display uses a colour graphics display screen, providing clear and comprehensible
presentation of information and measured values.
<![if !vml]>

<![endif]>
LEANOX system
Each engine is executed with the so called Leanox system.
This lean mixture combustion control is developed and patented by Jenbacher. It ensures
the correct air/gas ratio under all operational circumstances in order to simultaneously
achieve the lowest exhaust gas emission rates and stable engine operation.
Knock control system
Each engine has its own knock control system.
The resulting specific firing point, output and gas/air mixture temperature control protects the engine from inadmissible loads, resulting in increased reliability and availability.
Exhaust gas silencer
Each engine has its own silencer, stainless steel with condensate relief connection and
flexible compensators. Sound pressure 60dB(A) at 10 meter.